The Divinity Anthology is a beautiful collection of three great PC games from the Divinity series which have been released over the last decade. This review is not mainly based on the games, but more on the collection itself, and what it offers to PC gamers. Read on for our opinions on the game…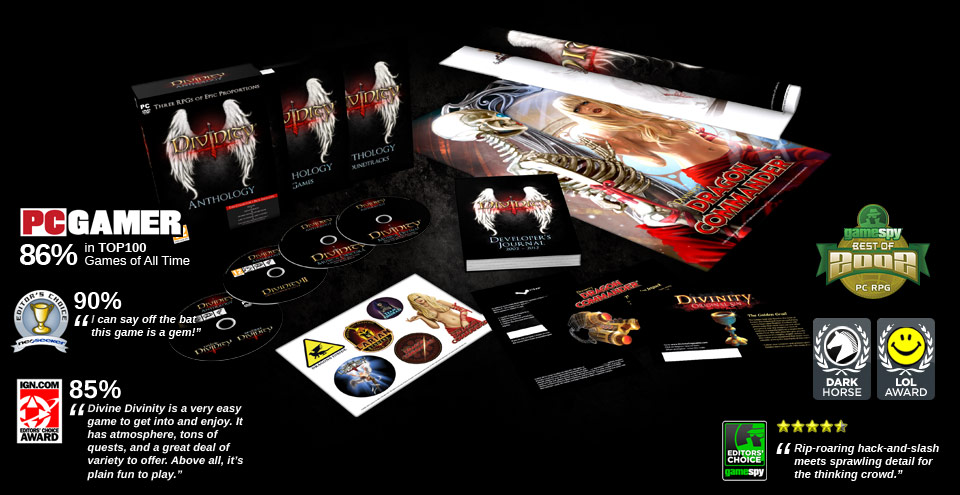 The Divinity Anthology is one of the most stunning value sets I have ever laid eyes on. The moment it arrived in my post box, I was shocked and stunned at the value this box set offers. The box set retails for only £19.95 (€29.95/$29.95) and packs a LOT of stuff inside! This really is fantastic value, and, a no-brainer for PC gamers.
The collection included DRM-free versions of the three games (meaning there is no serial needed, they can be installed on as many computers as you like); Divine Divinity, Beyond Divinity and Divinity II: Directors Cut. Even that alone would have been excellent value, but they do not stop there! The set also includes a code to download all three games on Steam in addition to the DRM-free versions. Larian Studios continues to add value, with the addition of TWO soundtracks, a brilliantly interesting developers journal (well worth a read), a few stickers and some download codes for bonuses in the next two Divinity games. Also thrown in are two lovely double sided posters.
I think all with agree that this box set could not be more of an excellent value set. The team have outdone themselves in bringing some of their past marvels to PC gamers at an incredible price.
The games themselves are great, very fun to play and offer as much entertainment as you would expect from a new release. All three titles are fantastic and there is no question – if you are a fan of the Divinity series or a fan of fantasy RPG's, you will definitely love these titles and will not get much better value for such a beautiful collection of fantastic games.
In terms of packaging, the anthology is delivered in a nice beveled box which contains full size game cases. Inside the first are two disks, one containing the first two titles and the other containing Divinity II: Directors Cut. Also inserted are the Steam and DLC codes.
In the second box, there are two CDs containing the two soundtracks; Musica Divina and Musica Obscura. These are both great bonuses to have, the music is superb! Also inserted in this case are the two double-sided posters. Finally, the great developers journal and stickers are also in the outer case. The journey really is worth a read, it is very interesting!
Anyway, to wrap up our review of the Anthology package, we have to say – this is a no-brainer – buy this box set NOW before stock of this outstandingly priced box set runs out, you will NOT regret it! Oh yes… we forgot to mention… the set is limited to only 25,000 copies worldwide, so grab yours now while you can! Here are the scores: